George Clooney Net Worth
---
| | |
| --- | --- |
| Net Worth: | $500 Million |
| Salary: | $60 Million |
| Real Name: | George Timothy Clooney |
| Date of Birth: | 6th May 1961 |
| Age: | 62 years old |
| Gender: | Male |
| Height: | 5 ft 10 in (1.8 m) |
| Profession: | Actor, Film Producer, Director, Screenwriter, Voice Actor |
| Nationality: | American |
| Updated: | 1st July 2023 |
As one of the most prolific American actors on the planet, George Clooney continues to impress crowds and turn heads with his on-screen appearances, aesthetics, and charm. But chances are, like us, you want to know all about George Clooney's net worth.
So, what's the latest on that George Clooney net worth that mystifies us all?
George Clooney's Net Worth
George Clooney—an American actor, screenwriter, director, and activist—holds an impressive net worth estimated at around $500 million.
His net worth is so high that it's said George Clooney is one of the highest-paid actors in Hollywood. Reports claim Clooney earns $20 million per film role, and outside of acting, he is the co-founder of Casamigos Tequila, which he sold in 2017 for $1 billion.
We'll explore more about the legend's other interests, including his tequila empire, down the line!
Who is George Clooney?
As the nominee and subsequent winner of multiple Golden Globe Awards and Academy Awards, George Clooney remains one of the leading actors in the entertainment industry. But it's early life George Clooney we're going to explore to kick things off!
Clooney, born in Lexington, Kentucky, in 1961, was born to Nina Bruce, a local beauty queen and city councilwoman, and Nick Clooney, an anchorman and television host who appeared on AMC Network.
His father's on-screen appearances likely influenced his own. In 1978, Clooney tackled his first role as an extra in Centennial, a mini-series on television. However, Clooney's first significant role came in 1994 on E.R., a medical drama series where he starred as a regular cast member and won awards for his appearances.
But it's his big-screen presence that most remember Clooney for years later, though his roles on various television shows continue to impress, too. He has starred in memorable films, including Confessions of a Dangerous Mind, Syriana, The Good German, From Dusk Till Dawn, Three Kings, Perfect Storm, and others.
In 2006, Clooney and Grant Heslov formed the production company Smokehouse Pictures.
Most recently, you can find Clooney starring in The Midnight Sky, Hail, Caesar!, and the upcoming Ticket to Paradise.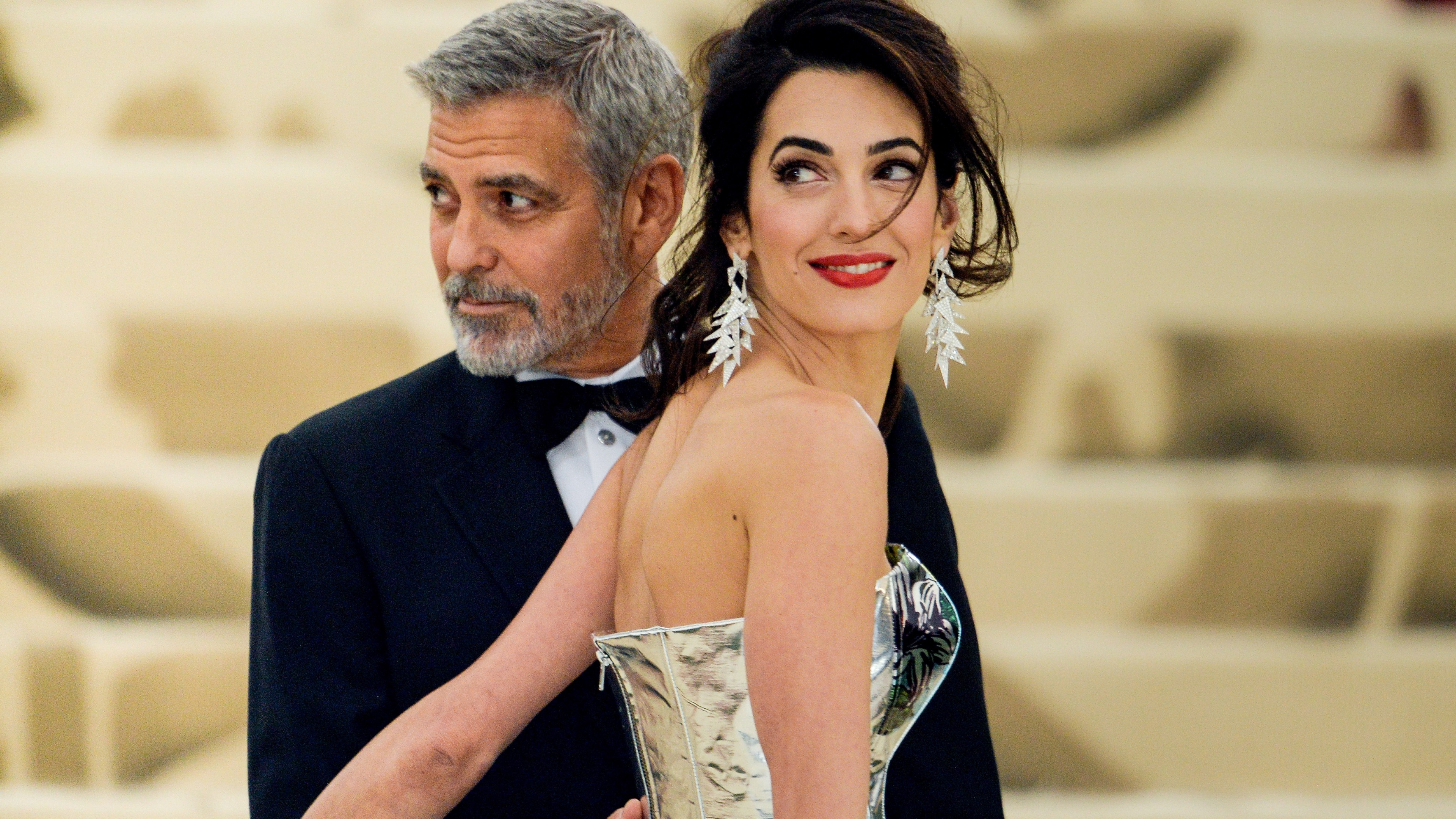 George Clooney's Most Famous Movies
As a man with a laundry list of films to his name, George Clooney sets the bar for drama, thrillers, and even comedies.
His most notable films include:
Gravity
The American
The Perfect Storm
The Men Who Stare at Goats
O Brother, Where Art Thou?
The Monuments Men
The Ides of March
And so many other exceptional films that both fans and critics have adored over the years.
George Clooney's Awards
George Clooney holds countless awards from his time on-screen, including two Academy Awards, such as the Best Supporting Actor for Syriana (2005) and Best Picture Winner for Argo (2012).
As for nominations during his acting career, George Clooney has received nine British Academy Film Award nominations, fourteen Screen Actors Guild Award nominations, and three Primetime Emmy Award nominations.
His most notable awards include:
Academy Awards — Best Supporting Actor — Syriana
Academy Awards — Best Picture — Argo
British Academy Film Awards — Best Film — Argo
Golden Globe Awards — Best Actor in a Motion Picture — O Brother, Where Art Thou?
Golden Globe Awards — Best Motion Picture – Drama — Argo
Screen Actors Guild Awards — Outstanding Ensemble in a Drama Series — E.R.
Then you have industry awards from the likes of Cinema for Peace, Empire Awards, Satellite Awards, MTV Movie & T.V. Awards, Saturn Awards, and more!
The man is a machine for on-screen performances, both on the big and small screens.
A Look at George and Amal Clooney's Real Estate
Both George Clooney and Amal Clooney turned heads, but both diversified themselves and their assets early on to become absolute powerhouses in the industry.
The couple owns numerous properties globally, including a condo in Manhattan and a villa in Studio City when it comes to real estate.
The couple owns a six-bedroom mansion in Studio City, complete with a courtyard, expansive dining room, lush gardens, and a pool area for hosting guests. They also bought Villa Oleandra in Lake Como, Italy, which cost $13.5 million in 2001.
Clooney previously owned a luxury retreat in Cabo, Mexico, meant as the Casamigos Compound. It is said to be the inspiration beyond his Casamigos Tequila business.
They also own a nine-bedroom manor home in Berkshire, UK, complete with the expansive countryside and a five-acre private island.
The list goes on, with expensive apartments in New York City, a chateau in France, and more!
Interesting Facts About George Clooney
With a better understanding of George Clooney's net worth, his most notable movies, exceptional awards, and a little about his early days, let's explore fun facts about George Clooney.
Did you know that George Clooney is a distant relative to President Abraham Lincoln? It's true! He's first half-cousins five times removed from one of the most notable presidents in U.S. history.
That's not the only famous individual in his family tree, though. Clooney is also related to the Hollywood elite—Rosemary Clooney, the legendary actress and singer, is his aunt.
Clooney nearly took a different path in life. As a lifelong fan of sports, Clooney attended a tryout for the Reds, but was not offered a contract, unfortunately for them and luckily for us.
Clooney spent time at Northern Kentucky University and the University of Cincinnati but did not graduate from college.
George Clooney is the first actor to hold nominations for an Academy Award in six unique categories (Best Supporting Actor, Best Picture, Best Director, Best Original Screenplay, Best Adapted Screenplay, and Best Actor)
Clooney is something of a ladies' man, having dated notable stars such as Kelly Preston, Renee Zellweger, and Stacy Keibler.
Clooney remains a notable activist even today, with humanitarian work in the conflict of Darfur, raising funds for Haiti, and was even named a U.N. Messenger of Peace in 2008.
Clooney was the very first guest on Rose O'Donnell's talk show way back in the 90s.
There you have it! A look at George Clooney's net worth, his life and times spent growing up in Kentucky and making a breakthrough on television series in his early days, and even a glance into his global real estate empire.
What more do you want to know about one of the leading actors of his day?
George Clooney FAQs
What is George Clooney Net Worth?
George Clooney net worth is currently $500 million USD.
How much money does George Clooney earn?
George Clooney earns $60 million from various sources.
How tall is George Clooney?
George Clooney is 5 ft 10 in (1.8 m)
How old is George Clooney?
George Clooney is currently 62 years old.
When is George Clooney birthday?
George Clooney birthday is on 6th May.
---